A FORMER POP-UP GALLERY BASED IN SHANGHAI, SINGAPORE AND BERLIN.
MO-INDUSTRIES
was an art agency & pop-up gallery with team members based in Singapore, Shanghai, Doha and Berlin. Committed to introducing exciting young artists and contemporary art from Asia to Europe and vice versa, we shed light on cultural traits and peculiarities. MO was founded in 2014 to foster cultural exchange between China and Germany. In 2015, Singapore and Hong Kong were added to the portfolio, broadening MO's outlook within the Asia-Pacific region. MO continued to work on enlarging its global footprint, searching temporary spaces for its shows with a main focus on fine art photography, conceptual art and new media art.

Artists represented included: CHEN CHENCHEN (aka. ccc), ANDREA KATHEDER, SILIN LIU, JULIAN LUCAS, PATRICK WACK, and LUO YANG. Exhibitions were held in Berlin, Beijing, Hong Kong, Shanghai , Singapore, and Vienna. The gallery closed its doors in early 2019.

Patrick Wack | HERE THERE ARE MEN
Patrick Wack, b. 1979 in Paris, spent more than 10 years in Shanghai, dedicating his work as a photographer to exploring the mindset of China and its people. His portraits recount everyday life amidst this nation's extreme cultural and environmental changes. His work can be described as part anthropological study, part work of art.

Rural plains, eerie mountains and surreal, disassembled cityscapes provide the backdrop for his "everyday men" in brief moments of their daily lives. Patrick lends his images a cinematic quality by blending natural and artificial light, while jungles of grey concrete and futuristic urban backgrounds in his motifs seem to derive from pure science fiction. Photographing real people in real situations, yet endowing his characters with a stylized, timeless sheen, Patrick strips his subjects of their social roles and elevates them to heroic figures – they become archetypes, anonymous representatives of a common humanity. At the same time, his everyday faces reflect the marks that tumultuous Chinese history has left on the old and young, in the countryside and in China's fast-growing metropolises, the urban epitomes of the "Chinese miracle".
Venue: MO-Industries Pop-Up Space, Torstr. , Berlin-Mitte, September 2015

Chen Chenchen |
THE MERCY OF NOT KILLING

Chen Chenchen (陈陈陈, a.k.a. ccc, b. 1987) is a Chinese conceptual artist best known for his performance "The Mercy of Not Killing 2.0", in which he hung ten construction workers from the edges of a 34-meter high tower in Wuxi. In his work, ccc often employs the human body to ponder the social conditions of modern society. Working in performance, digital art, painting and sculpture simultaneously, his multi-medial projects interact and constitute a series of parallel worlds. They are coherently arranged into ccc's futuristic panorama of "Poor Sci-Fi": a techno-dystopian vision derived from the struggles of everyday life. His work is smart and spectacular, addressing issues specific to Chinese culture while noting the individual ramifications of life in a globalised world. Where traditional values and norms seem suspended, ccc projects a humanistic vision, highlighting the positive powers of universal human values. Following ccc's seminal presentation at the Ullens Center for Contemporary Art in Beijing in 2017 , this was his first solo-show in Europe. On view were be an interactive multimedia installation, performances and mixed media from: "The Mercy of Not Killing", "Possible Babies", "Spring" and "Wish You Were Here".

The exhibition was a joint project of MO-Industries and the gallery Migrant Bird Space, which has been shining a light on the best of Chinese contemporary art in Berlin and Beijing since 2015.


Venue: MO-Industries @ Migrant Bird Space, Koppenplatz 5, Berlin-Mitte, April-June 2018


Luo Yang | GIRLS


Luo Yang's GIRLS belong to a part of contemporary China that is rarely taken note of in the West. Her portraits depict an emerging Chinese subculture that defies imposed expectations and stereotypes – GIRLS are bad-assed and self-aware with a supreme sense of cool, yet also vulnerable and torn. Beijing-based artist Luo Yang photographs girls around her, attempting to grasp an understanding of their lives as well as her own. Underlying tensions and ambivalent emotions lend friction to Luo's images and deny a conclusive reading. Her portraits are bold and up-front, intimate and sensitive at the same time. Above all, her work is a testament to her subjects' individuality. It explores themes of youth and femininity while challenging traditional beliefs about women in Chinese society. GIRLS thus also reflect a shifting mind-set with regards to concepts of femininity and identity in modern China.


Luo Yang, born 1984 in Liaoning, China, is a freelance photographer living and working in Beijing & Shanghai. In 2012, Ai Weiwei designated her one of the "rising stars of Chinese photography" (New Statesman). She has had numerous exhibitions in Asia and participated in major shows in Europe, amongst them Ai Weiwei's "FUCK OFF 2" at the Groninger Museum, Netherlands, in 2013. In her work, highly staged portraits and carefully constructed poses alternate with a raw, blurred snapshot-aesthetic.


Venues: MO-Industries @ The Cat Street Gallery, Sheung Wan, Hong Kong, September 2016
MO-Industries @ Green Space by Claudia Klenke, Rosa-Luxemburg Str., Berlin, May 2016

MOMO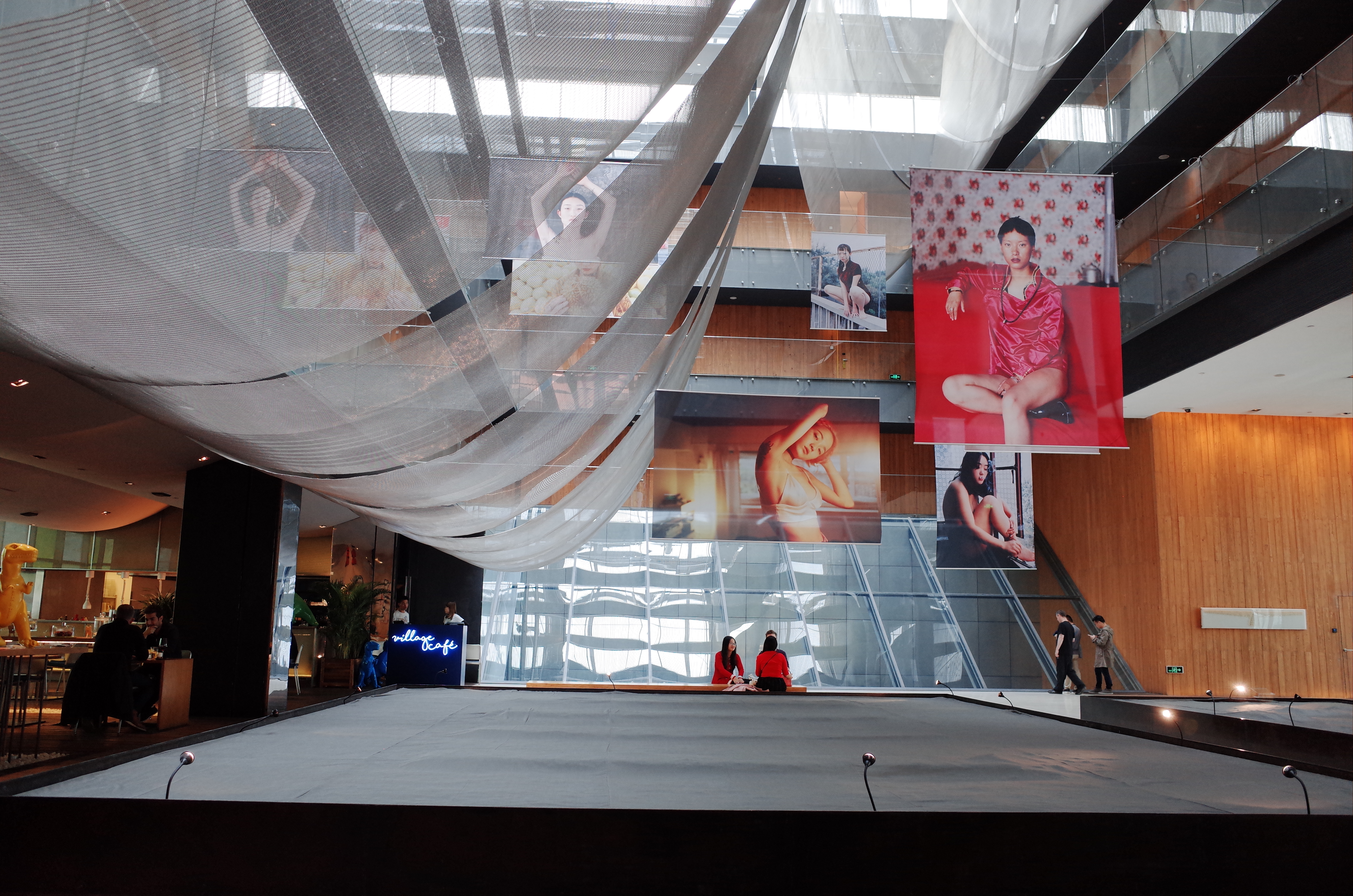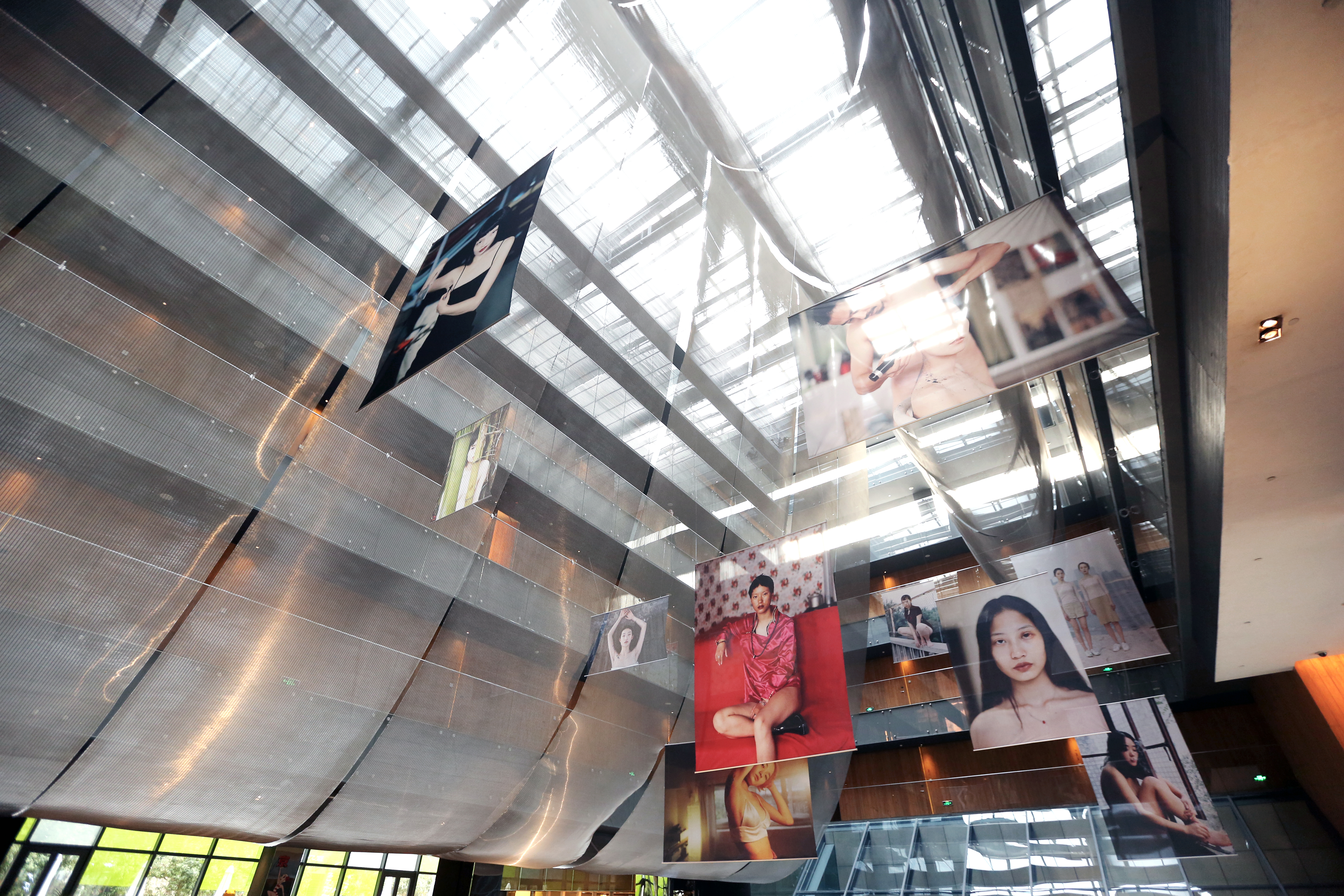 Luo Yang | GIRLS


MO-Industries partnered with 'THE OPPOSITE HOUSE' Beijing and 'Red Gate Gallery' for this solo-show of Luo Yang's GIRLS. The exhibition featured Luo's most prominent images in a stunning large-scale display at The Opposite House Beijing.


Venue: MO-Industries @ THE OPPOSITE HOUSE Beijing
Taikoo Li Sanlitun North, No. 11 Sanlitun Road Chaoyang District, Beijing, October 2017

Luo Yang | GIRLS. Edition Lammerhuber


Exhibition and artist talk with Luo Yang, Lois Lammerhuber and Dr. Eva Morawietz on occasion of the release of Luo Yang's monograph GIRLS by Edition Lammerhuber & MO-Industries, 2017.

Venue: LOOSHAUS, Michaelerplatz, Vienna, November 2017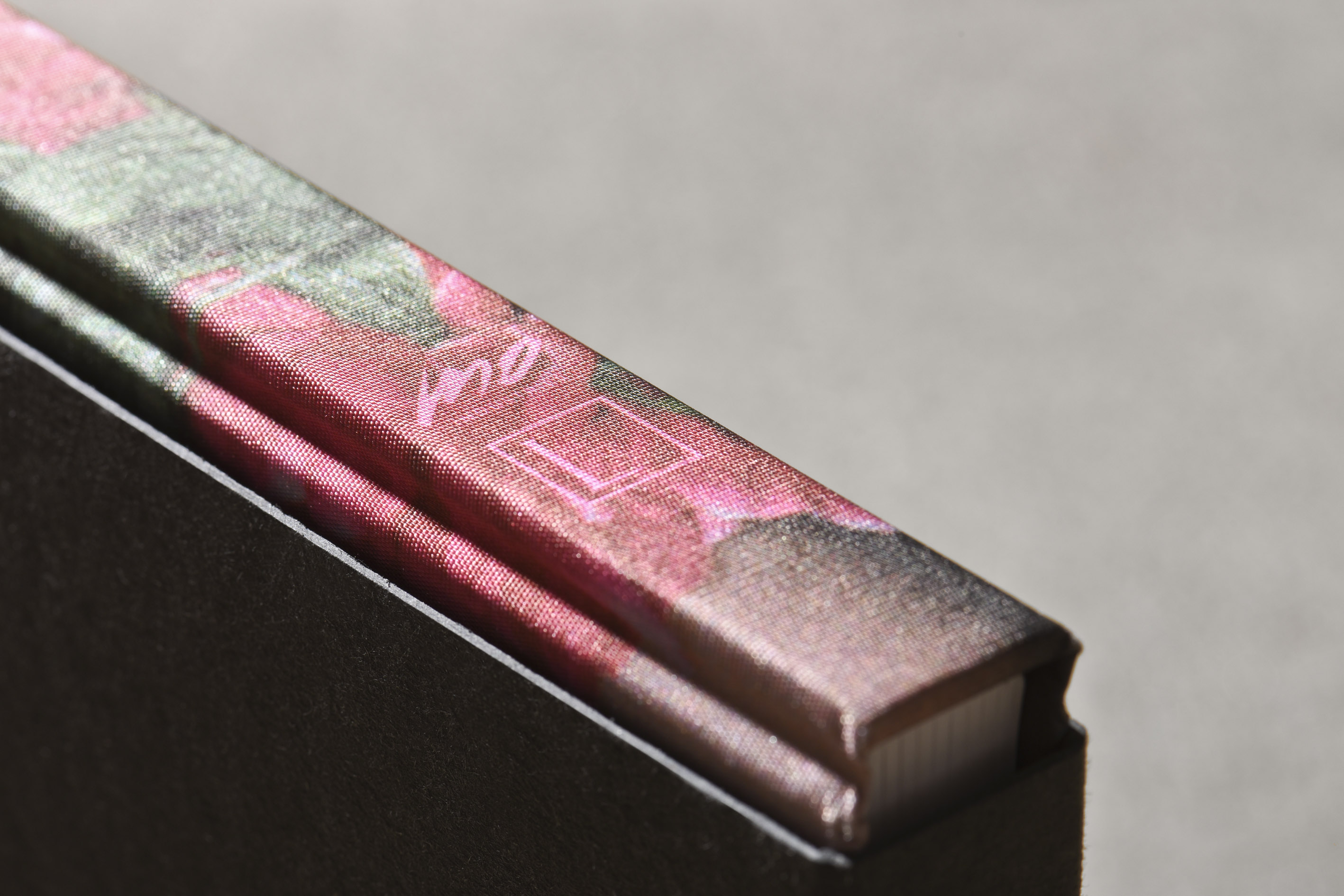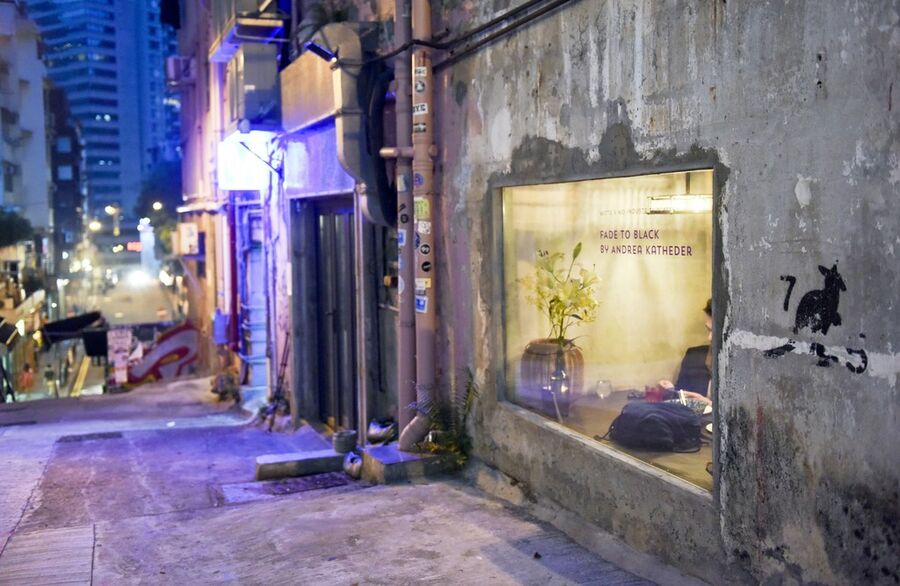 Andrea Katheder | FADE TO BLACK



MO-Industries and MITTE Hong Kong proudly presented FADE TO BLACK, a series of night-images by Berlin-based photographer Andrea Katheder.

The FADE TO BLACK series began in 2013 as spontaneous night-shots of trees in Berlin and Southern Germany. Andrea was fascinated by the colours, structures and abstract compositions that emerge from the dark when lit by artificial flash: Luminous shades, labyrinthine webs and ghostly limbs are visible only for a split-second. They are transient works of art that instantly fade back to black. The images that remain give a sense of the mysterious, uncanny feeling of night-time solitude.


Venue: MO-Industries @ MITTE Bar, 1A Upper Station Street, Sheung Wan, Hong Kong, March-April 2016
Julian Lucas | VANGLORIOUS
Compiling images from his archives , Los Angeles-based photographer Julian Lucas narrates a story touching on specific eras of time in American history. Julian exhibits a range of social issues that continue to afflict American society until the present day.

Dualistic in imagery, concept and process, Julian's photographic practice explores subjects that evoke social commentary and recognition of the inevitability of nature, its beauty and decomposition. He tends to photograph reality within all bodies of work, creating a personal context that is empathetic and engaging. Julian's photographic work sits between hard and soft edge, between fine art and photojournalism. His images are the result of a sophisticated naiveté, an experience matched with indomitable curiosity. His seductive and striking contrasts, lush effects challenge us to look at imagery that is often difficult to view. His focus is on traditional darkroom photography utilizing found spaces to create makeshift studios with a minimal of equipment - at times using only utility clamp work lights, or at other times, working outside, using only the high key sunlight and a backdrop. He lives and works in Los Angeles.

MO-Industries

ONLINE

, 2018 https://www.artsy.net/show/migrant-bird-space-julian-lucas-v
Artsy: www.artsy.net/artist/julian-lucas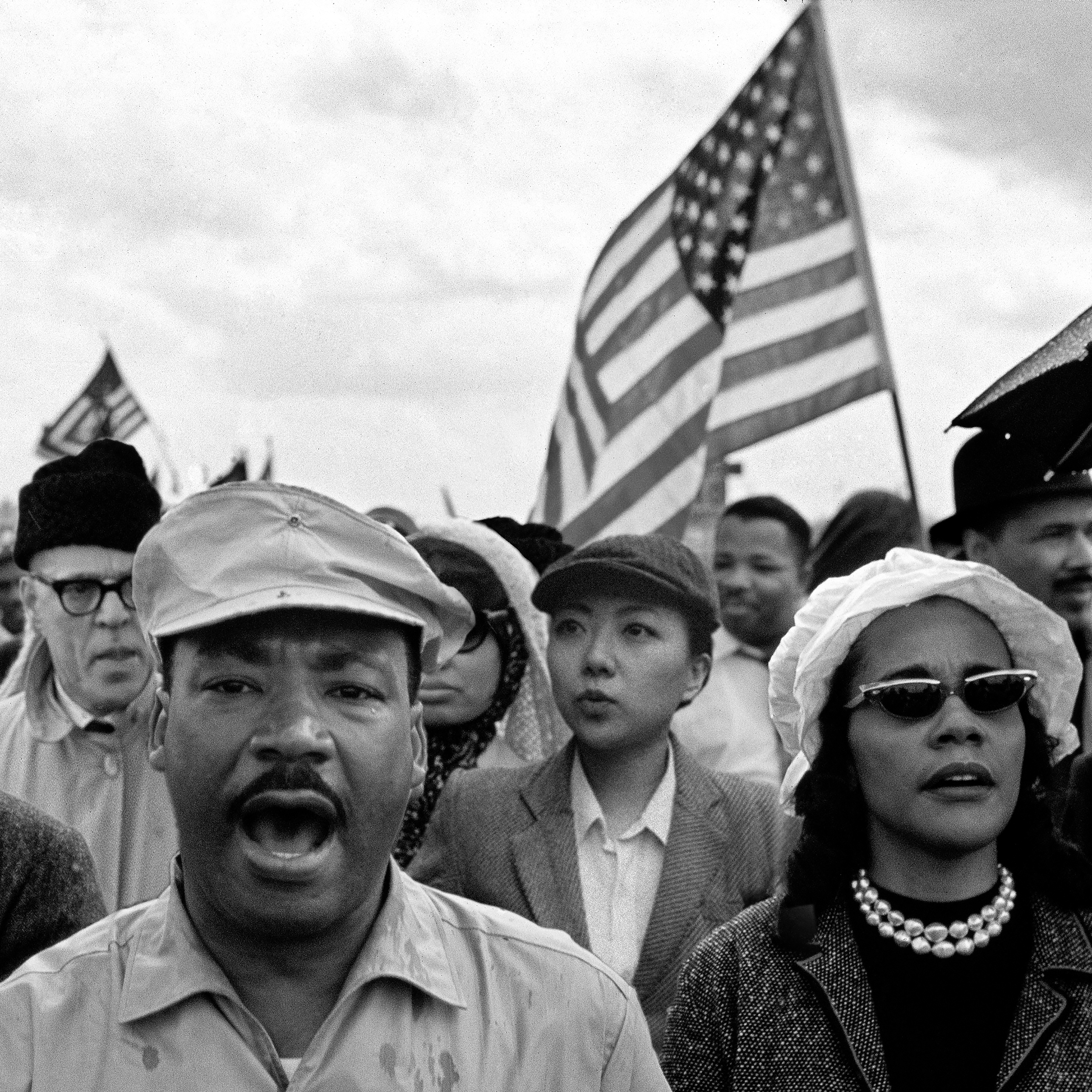 Silin Liu | I'M EVERYWHERE


Silin Liu assumes the identity of her alter ego Céline Liu to travel through time and space: Partying with Diana Spencer, conversing with Simone de Beauvoir, protesting alongside Martin Luther King — iconic personalities and moments in history are cast in a new light by the ever-present persona of the artist. Each image is the result of a meticulous week-long process that places charismatic Céline into the familiar settings of our cultural memory. Rewriting history in her own image, Silin Liu ponders the role of photography in the era of cultural globalisation, the irrational worship of icons and our understanding of images as vehicles of historical storytelling.


Venue: MO-Industries @ Migrant Bird Space, Koppenplatz 5, Berlin, Sept. - Oct. 2018

Patrick Wack | HERE THERE ARE MEN
Patrick Wack, born in France, spent more than 10 years in Shanghai, dedicating his work as a photographer to exploring the mindset of China and its people. His portraits recount everyday life amidst this nation's extreme cultural and environmental changes. His work can be described as part anthropological study, part work of art.

MO-Industries @ BottlesXO Singapore Headquarters,
Mohammed Sultan Road, River Valley, Singapore
December 2015 - February 2016
By: Ph.D. Eva Morawietz
inquiries@mo-industries.com